Библиотека сайта rus-linux.net

Chapter 1. Learning the Samba
Samba is an extremely useful networking tool for anyone who has both Windows and Unix systems on his network. Running on a Unix system, it allows Windows to share files and printers on the Unix host, and it also allows Unix users to access resources shared by Windows systems.
Although it might seem natural to use a Windows server to serve files and printers to a network containing Windows clients, there are good reasons for preferring a Samba server for this duty. Samba is reliable software that runs on reliable Unix operating systems, resulting in fewer problems and a low cost of maintenance. Samba also offers better performance under heavy loads, outperforming Windows 2000 Server by a factor of 2 to 1 on identical PC hardware, according to published third-party benchmarks. When common, inexpensive PC hardware fails to meet the demands of a huge client load, the Samba server can easily be moved to a proprietary "big iron" Unix mainframe, which can outperform Windows running on a PC many times. If all that weren't enough, Samba has a very nice cost advantage: it's free. Not only is the software itself freely available, but also no client licenses are required, and it runs on high-quality, free operating systems such as Linux and FreeBSD.
After reading the previous paragraph, you might come to the conclusion that Samba is commonly used by large organizations with thousands of users on their networks—and you'd be right! But Samba's user base includes organizations all over the planet, of all types and sizes: from international corporations, to medium and small businesses, to individuals who run Samba on their Linux laptops. In the last case, a tool such as VMware is used to run Windows on the same computer, with Samba enabling the two operating systems to share files.
The types of users vary even more—Samba is used by corporations, banks and other financial institutions, government and military organizations, schools, public libraries, art galleries, families, and even authors! This book was developed on a Linux system running VMware and Windows 2000, with Adobe FrameMaker running on Windows and the document files served by Samba from the Linux filesystem.
Does all this whet your technological appetite? If so, we encourage you to keep reading, learn about Samba, and follow our examples to set up a Samba server of your own. In this and upcoming chapters, we will tell you exactly how to get started.
As explained earlier, Samba can help Windows and Unix computers coexist in the same network. However, there are some specific reasons why you might want to set up a Samba server on your network:
Let's take a quick tour of Samba in action. Assume that we have the following basic network configuration: a Samba-enabled Unix system, to which we will assign the name toltec, and a pair of Windows clients, to which we will assign the names maya and aztec, all connected via a local area network (LAN). Let's also assume that toltec also has a local inkjet printer connected to it, lp, and a disk share named spirit—both of which it can offer to the other two computers. A graphic of this network is shown in Figure 1-1.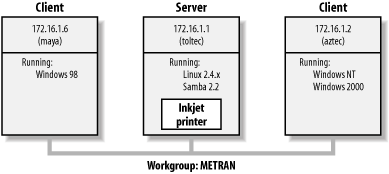 In this network, each computer listed shares the same workgroup. A workgroup is a group name tag that identifies an arbitrary collection of computers and their resources on an SMB network. Several workgroups can be on the network at any time, but for our basic network example, we'll have only one: the METRAN workgroup.
If everything is properly configured, we should be able to see the Samba server, toltec, through the Network Neighborhood of the maya Windows desktop. In fact, Figure 1-2 shows the Network Neighborhood of the maya computer, including toltec and each computer that resides in the METRAN workgroup. Note the Entire Network icon at the top of the list. As we just mentioned, more than one workgroup can be on an SMB network at any given time. If a user clicks the Entire Network icon, she will see a list of all the workgroups that currently exist on the network.
We can take a closer look at the toltec server by double-clicking its icon. This contacts toltec itself and requests a list of its shares—the file and printer resources—that the computer provides. In this case, a printer named lp, a home directory named jay, and a disk share named spirit are on the server, as shown in Figure 1-3. Note that the Windows display shows hostnames in mixed case (Toltec). Case is irrelevant in hostnames, so you might see toltec, Toltec, and TOLTEC in various displays or command output, but they all refer to a single system. Thanks to Samba, Windows 98 sees the Unix server as a valid SMB server and can access the spirit folder as if it were just another system folder.
One popular Windows feature is the ability to map a drive letter (such as E:, F:, or Z:) to a shared directory on the network using the Map Network Drive option in Windows Explorer.[1] Once you do so, your applications can access the folder across the network using the drive letter. You can store data on it, install and run programs from it, and even password-protect it against unwanted visitors. See Figure 1-4 for an example of mapping a drive letter to a network directory.
Take a look at the Path: entry in the dialog box of Figure 1-4. An equivalent way to represent a directory on a network computer is by using two backslashes, followed by the name of the networked computer, another backslash, and the networked directory of the computer, as shown here:
\\network-computer\directory
This is known as the Universal Naming Convention (UNC) in the Windows world. For example, the dialog box in Figure 1-4 represents the network directory on the toltec server as:
\\toltec\spirit
If this looks somewhat familiar to you, you're probably thinking of uniform resource locators (URLs), which are addresses that web browsers such as Netscape Navigator and Internet Explorer use to resolve systems across the Internet. Be sure not to confuse the two: URLs such as http://www.oreilly.com use forward slashes instead of backslashes, and they precede the initial slashes with the data transfer protocol (i.e., ftp, http) and a colon (:). In reality, URLs and UNCs are two completely separate things, although sometimes you can specify an SMB share using a URL rather than a UNC. As a URL, the \\toltec\spirit share would be specified as smb://toltec/spirit.
Once the network drive is set up, Windows and its programs behave as if the networked directory were a local disk. If you have any applications that support multiuser functionality on a network, you can install those programs on the network drive.[2] Figure 1-5 shows the resulting network drive as it would appear with other storage devices in the Windows 98 client. Note the pipeline attachment in the icon for the J: drive; this indicates that it is a network drive rather than a fixed drive.
My Network Places, found in Windows Me, 2000, and XP, works differently from Network Neighborhood. It is necessary to click a few more icons, but eventually we can get to the view of the toltec server as shown in Figure 1-6. This is from a Windows 2000 system. Setting up the network drive using the Map Network Drive option in Windows 2000 works similarly to other Windows versions.
Now let's wrap up by showing where Samba can help out and where it is limited. Table 1-9 summarizes which roles Samba can and cannot play in a Windows NT or Active Directory domain or a Windows workgroup. Many of the Windows domain protocols are proprietary and have not been documented by Microsoft and therefore must be reverse-engineered by the Samba team before Samba can support them. As of Version 3.0, Samba cannot act as a backup in most roles and does not yet fully support Active Directory.
| Role | Can perform? |
| --- | --- |
| | Yes |
| Printer server | Yes |
| Microsoft Dfs server | Yes |
| Primary domain controller | Yes |
| Backup domain controller | No |
| Active Directory domain controller | No |
| Windows 95/98/Me authentication | Yes |
| Windows NT/2000/XP authentication | Yes |
| Local master browser | Yes |
| Local backup browser | Yes |
| Domain master browser | Yes |
| Primary WINS server | Yes |
| Secondary WINS server | No |
---
[1] You can also right-click the shared resource in the Network Neighborhood and then select the Map Network Drive menu item.

[2] Be warned that many end-user license agreements forbid installing a program on a network so that multiple clients can access it. Check the legal agreements that accompany the product to be absolutely sure.

[3] You might also see the abbreviation NetBT, which is common in Microsoft literature.

[4] See http://www.samba.org/cifs/docs/what-is-smb.html for Richard's excellent summary of SMB.

[5] This was originally called Network Neighborhood in Windows 95/98/NT, but Microsoft has changed the name to My Network Places in the more recent Windows Me/2000/XP. We will continue to call it Network Neighborhood, and if you're using a new version of Windows, be aware that My Network Places can act a little differently in some ways.
---
Если вам понравилась статья, поделитесь ею с друзьями:
---