Библиотека сайта rus-linux.net

Chapter 6. The Samba Configuration File
In previous chapters, we showed you how to install Samba on a Unix server and set up Windows clients to use a simple disk share. This chapter will show you how Samba can assume more productive roles on your network.
Samba's daemons, smbd and nmbd, are controlled through a single ASCII file, smb.conf, that can contain over 300 unique options (also called parameters). Some of these options you will use and change frequently; others you might never use, depending on how much functionality you want Samba to offer its clients.
This chapter introduces the structure of the Samba configuration file and shows you how to use options to create and modify disk shares. Subsequent chapters will discuss browsing, how to configure users, security, printing, and other topics related to implementing Samba on your network.
Options in the Samba configuration files fall into one of two categories: global options or share options. Each category dictates where an option can appear in the configuration file.
Global options must appear in the [global] section and nowhere else. These are options that typically apply to the behavior of the Samba server itself and not to any of its shares.
In addition, configuration options can take three kinds of values. They are as follows:
These are simply yes or no values, but can be represented by any of the following: yes, no, true, false, 1, or 0. The values are case-insensitive: YES is the same as yes.

This is a decimal, hexadecimal, or octal number. The standard 0xnn syntax is used for hexadecimal and 0nnn for octal.
You can instruct Samba to include or replace configuration options as it is processing them. The options to do this are summarized in Table 6-3.
| Option | Parameters | Function | Default | Scope |
| --- | --- | --- | --- | --- |
| config file | string (name of file) | Sets the location of a configuration file to use instead of the current one | None | Global |
| include | string (name of file) | Specifies an additional set of configuration options to be included in the configuration file | None | Global |
| copy | string (name of share) | Allows you to clone the configuration options of another share in the current share | None | Share |
This option, discussed in greater detail earlier, copies the target file into the current configuration file at the point specified, as shown in Figure 6-1. This option also can be used with variables. You can use this option as follows:
[global]
    include = /usr/local/samba/lib/smb.conf.%m
If the configuration file specified does not exist, the option is ignored. Options in the include file override any option specified previously, but not options that are specified later. In Figure 6-1, all three options will override their previous values.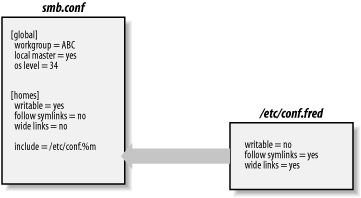 The include option does not work with the variables %u (user), %P (current share's root directory), or %S (current share's name) because they are not set at the time the include parameter is processed.
[global]
    #  Server configuration parameters
    netbios name = toltec
    server string = Samba %v on %L
    workgroup = METRAN
    encrypt passwords = yes
If you used the line encrypt passwords = yes in your earlier configuration file, you should do so here as well.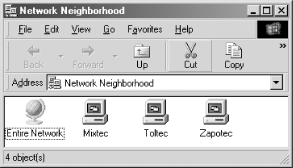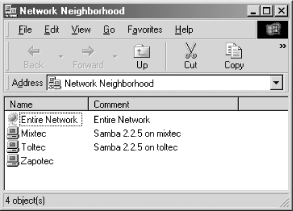 Table 6-4 summarizes the server configuration options introduced previously. All three of these options are global in scope, so they must appear in the [global] section of the configuration file.
| Option | Parameters | Function | Default | Scope |
| --- | --- | --- | --- | --- |
| netbios name | string | NetBIOS name of the Samba server | Server's unqualified DNS hostname | Global |
| workgroup | string | NetBIOS group to which the server belongs | Defined at compile time | Global |
| server string | string | Descriptive string for the Samba server | Samba %v | Global |
Если вам понравилась статья, поделитесь ею с друзьями:
---